O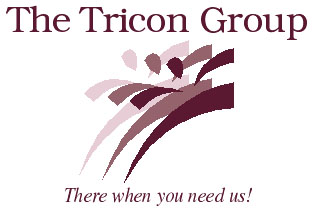 ---
" Over 25 Years of Customer Service"
---
The Tricon Group has been providing IBM® iSeries® business solutions for our clients since 1984. We can assist you with IBM® iSeries®, pSeries® and PC Networks. We can help you evaluate and obtain the required hardware to meet your needs. Tricon specializes in business software solutions.

---
IBM iSeries® Support: Tricon is an IBM Business Partner. Our IBM Certified Systems Engineers can provide the support you need when performing iSeries® functions. Do you have a new project and you aren't really sure where to begin? Tricon has the experience and expertise to help your project succeed! We also have experience with migrating original IBM iSeries® systems to the new iSeries® I5 OS based systems. This migration can pose many challenges unless you have a good background in iSeries®& OS/400® operations. Don't migrate alone... call Tricon for assistance.
IBM pSeries® Support: Tricon also has experience with the pSeries®and AIX. If you need assistance with your pSeries® or would like to know how the pSeries® can easily attach your company to the Internet
---
---
Networking Support: . We can help you plan, implement, and maintain your network. If you want to connect your network to your iSeries®, Tricon can help you as well. Did you know that Windows 2000 server, Windows 2003 server, AIX or Linux can run on the IBM iSeries®? Let Tricon show you how to utilize a rock-solid platform as your server.
---
---
How To Contact
The Tricon Group_______________
6509 Natalie Ave NE
Albuquerque, NM 87110
(505) 342-1222
Email: Tricon@TriconGroup.com
---
The IBM logo is a registered trademark and the IBM Business Partner emblem is a trademark of International Business Machines Corporation and are used together under license.